Save time with ready to use detail drawings.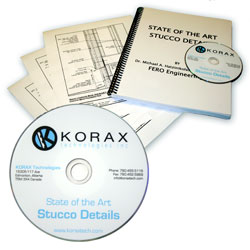 Stucco Details, CAD and PDF format files -
The details in this publication and CD are state of the art for it shows how you can make the Stucco finish a vented Rain Screen Wall.
These details demonstrate highly efficient wall assemblies for housing and other types of construction where EIFS or stucco is the desired finish.
FREE
To order your copy - Click Here!
These details satisfy the National Building Code.

Steel Stud Backup Wall

Select from the details below. They are available in Adobe Acrobat format

viewable online.
CAD files in both metric and imperial versions in DWG and DXF formats are on the CD included with the manual "State of the Art Stucco Details", to order contact Korax.
Stucco Rainscreen Panel

Detail KSS-I-01
Stucco\ Steel Stud Wall Detail @ Foundation


Detail KSS-I-02
Stucco\ Steel Stud Wall Detail @ Foundation\ Concrete Block Foundation Wall

Detail KSS-I-03
Stucco\ Steel Stud Wall Detail @ Foundation\ Insulated Slab

Detail KSS-I-04
Stucco\ Steel Stud Wall Detail @ Foundation\ Concrete Block Foundation Wall\ Insulated Slab

Detail KSS-I-05
Stucco\ Steel Stud Wall Detail @ Foundation

Detail KSS-I-06
Stucco\ Steel Stud Wall Detail @ Foundation\ Concrete Block Foundation Wall

Detail KSS-I-07
Stucco\ Steel Stud Wall Detail @ Foundation\ Interior Insulation

Detail KSS-I-08
Stucco\ Steel Stud Wall Detail @ Foundation\ Concrete Block Foundation Wall\ Interior Insulation

Detail KSS-I-09
Stucco\ Steel Stud Wall Detail @ Floor

Detail KSS-I-10
Stucco\ Steel Stud Wall Detail @ Parapet\ Low Parapet\ Protected Membrane Roofing (P.M.R.)

Detail KSS-I-11
Stucco\ Steel Stud Wall Detail @ Parapet\ High Parapet\ Protected Membrane Roofing (P.M.R.)

Detail KSS-I-11a
Stucco\ Steel Stud Wall Detail @ Parapet Edge\ High Parapet\ Protected Membrane Roofing (P.M.R.)

Detail KSS-I-11b
Stucco\ Steel Stud Wall Detail @ Roof Slab (Parapet)\ High Parapet\ Protected Membrane Roofing (P.M.R.)

Detail KSS-I-12
Stucco\ Steel Stud Wall Detail @ Parapet\ Low Parapet\ Conventional Roofing

Detail KSS-I-13
Stucco\ Steel Stud Wall Detail @ Parapet\ High Parapet\ Conventional Roofing

Detail KSS-I-13a
Stucco\ Steel Stud Wall Detail @ Parapet Edge\ High Parapet\ Conventional Roofing

Detail KSS-I-13b
Stucco\ Steel Stud Wall Detail @ Roof Slab (Parapet)\ High Parapet\ Conventional Roofing

Detail KSS-I-14
Stucco\ Steel Stud Wall Detail @ Exhaust Vent

Detail KSS-I-15
Stucco\ Steel Stud Wall Detail @ Window Head\ Slab\ Aluminum Window

Detail KSS-I-16
Stucco\ Steel Stud Wall Detail @ Window Head\ Aluminum Window

Detail KSS-I-17
Stucco\ Steel Stud Wall Plan Detail @ Window Jamb\ Aluminum Window

Detail KSS-I-18
Stucco\ Steel Stud Wall Detail @ Window Sill\ Aluminum Window

Detail KSS-I-19
Stucco\ Steel Stud Wall Detail @ Balcony\ Aluminum Window

Detail KSS-I-20
Stucco\ Steel Stud Wall Plan Detail @ Control Joint

Detail KSS-I-21
Stucco\ Steel Stud Wall Plan Detail @ Corner\ Control Joint

Detail KSS-I-22
Stucco\ Steel Stud Wall Plan Detail @ Structural Expansion Joint

Detail KSS-I-23
Stucco\ Steel Stud Wall Detail @ Cantilevered Floor Slab Edge

Detail KSS-I-23a
Stucco\ Steel Stud Wall Detail @ Cantilevered Floor Slab

Detail KSS-I-24
Stucco\ Steel Stud Wall Detail @ Cantilevered Floor Slab Edge\ Cold Soffit

Detail KSS-I-24a
Stucco\ Steel Stud Wall Detail @ Cantilevered Floor Slab\ Cold Soffit

Synthetic Stucco or Texture Coating Finish (ECO)

Detail KES-I-01
Synthetic Stucco or Texture Coating\ Steel Stud Wall Detail @ Foundation

Detail KES-I-02
Synthetic Stucco or Texture Coating\ Steel Stud Wall Detail @ Foundation\ Concrete Block Foundation Wall

Detail KES-I-03
Synthetic Stucco or Texture Coating\ Steel Stud Wall Detail @ Foundation\ Insulated Slab

Detail KES-I-04
Synthetic Stucco or Texture Coating\ Steel Stud Wall Detail @ Foundation\ Concrete Block Foundation Wall\ Insulated Slab

Detail KES-I-05
Synthetic Stucco or Texture Coating\ Steel Stud Wall Detail @ Foundation

Detail KES-I-06
Synthetic Stucco or Texture Coating\ Steel Stud Wall Detail @ Foundation\ Concrete Block Foundation Wall

Detail KES-I-07
Synthetic Stucco or Texture Coating\ Steel Stud Wall Detail @ Foundation\ Interior Insulation

Detail KES-I-08
Synthetic Stucco or Texture Coating\ Steel Stud Wall Detail @ Foundation\ Concrete Block Foundation Wall\ Interior Insulation

Detail KES-I-09
Synthetic Stucco or Texture Coating\ Steel Stud Wall Detail @ Slab

Detail KES-I-09a
Synthetic Stucco or Texture Coating\ Steel Stud Wall Detail @ Slab\ Metal Flashing

Detail KES-I-10
Synthetic Stucco or Texture Coating\ Steel Stud Wall Detail @ Parapet\ Low Parapet\ Protected Membrane Roofing (P.M.R.)

Detail KES-I-11
Synthetic Stucco or Texture Coating\ Steel Stud Wall Detail @ Parapet\ High Parapet\ Protected Membrane Roofing (P.M.R.)

Detail KES-I-11a
Synthetic Stucco or Texture Coating\ Steel Stud Wall Detail @ Parapet Edge\ High Parapet\ Protected Membrane Roofing (P.M.R.)

Detail KES-I-11b
Synthetic Stucco or Texture Coating\ Steel Stud Wall Detail @ Roof Slab (Parapet)\ High Parapet\ Protected Membrane Roofing (P.M.R.)

Detail KES-I-12
Synthetic Stucco or Texture Coating\ Steel Stud Wall Detail @ Parapet\ Low Parapet\ Conventional Roofing

Detail KES-I-13
Synthetic Stucco or Texture Coating\ Steel Stud Wall Detail @ Parapet\ High Parapet\ Conventional Roofing

Detail KES-I-13a
Synthetic Stucco or Texture Coating\ Steel Stud Wall Detail @ Parapet Edge\ High Parapet\ Conventional Roofing

Detail KES-I-13b
Synthetic Stucco or Texture Coating\ Steel Stud Wall Detail @ Roof Slab (Parapet)\ High Parapet\ Conventional Roofing

Detail KES-I-14
Synthetic Stucco or Texture Coating\ Steel Stud Wall Detail @ Exhaust Vent

Detail KES-I-15
Synthetic Stucco or Texture Coating\ Steel Stud Wall Detail @ Window Head\ Slab\ Aluminum Window

Detail KES-I-16
Synthetic Stucco or Texture Coating\ Steel Stud Wall Detail @ Window Head\ Aluminum Window

Detail KES-I-17
Synthetic Stucco or Texture Coating\ Steel Stud Wall Plan Detail @ Window Jamb\ Aluminum Window

Detail KES-I-18
Synthetic Stucco or Texture Coating\ Steel Stud Wall Detail @ Window Sill\ Aluminum Window

Detail KES-I-19
Synthetic Stucco or Texture Coating\ Steel Stud Wall Detail @ Balcony\ Aluminum Window

Detail KES-I-20
Synthetic Stucco or Texture Coating\ Steel Stud Wall Plan Detail @ Control Joint

Detail KES-I-21
Synthetic Stucco or Texture Coating\ Steel Stud Wall Plan Detail @ Corner\ Control Joint

Detail KES-I-22
Synthetic Stucco or Texture Coating\ Steel Stud Wall Plan Detail @ Structural Expansion Joint

Detail KES-I-23
Synthetic Stucco or Texture Coating\ Steel Stud Wall Detail @
Cantilevered Floor Slab Edge

Detail KES-I-23a
Synthetic Stucco or Texture Coating\ Steel Stud Wall Detail @ Cantilevered Floor Slab

Detail KES-I-24
Synthetic Stucco or Texture Coating\ Steel Stud Wall Detail @ Cantilevered Floor Slab Edge\ Cold Soffit

Detail KES-I-24a
Synthetic Stucco or Texture Coating\ Steel Stud Wall Detail @ Cantilevered Floor Slab\ Cold Soffit

Click here if you require the FREE Adobe Reader to view the pdfs above.


Drainage Panel l Concrete Block Backup Wall l Steel Stud Backup Wall l Wood Frame Backup Wall