EIFS Design Considerations
With any EIFS, care in detailing and workmanship are key. The following suggestions apply to all EIFS:
Detail all penetrations, from windows to hose bibs, to be sure that they won't admit water into the EIFS, or worse, into the sheathing and wall behind.
Provide soft joints where transitions in the substrate or joints in the substrate may cause movement, either in plane (structural expansion joints, floor deflection), or perpendicular to the wall plane (differential lateral deflection of framing).

Opening a Gap

It is possible to incorporate a drained and vented cavity near the exterior face, outward from the thermal insulation, in an EIFS system. Korax Technologies make a "Stucco Rainscreen" polystyrene beadboard panel that has horizontal and vertical grooves in the back to create a drained and vented cavity. The panel can be used with conventional stucco as well as with EIFS. The panel is attached over the primary thermal insulation, using mechanical fasteners. Vertical channels in the panel create cavities that lead moisture to flashings and vents at the bottom of the wall section, and allow for ventilation. What would otherwise be vertical ribs between the cavities are interrupted at regular intervals by horizontal channels that slope back toward the exterior.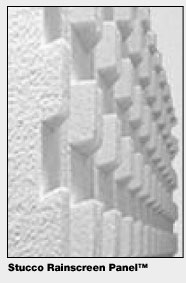 The vertical channels are deep enough that any water reaching them from the exterior will run down the surface to drain, without reaching the primary insulation.
If exterior water passes through a rib instead, it can reach the primary insulation, but will soon reach a horizontal groove that will lead it back to the exterior side of the cavity. The contact area is less than 20%, and the grooves are deep enough to prevent capillary bridging. If polystyrene is also used as the primary insulation, all of the cavity surfaces will be hydrophobic. This increases the amount of water that will drain from the system, as opposed to having to be removed by evaporation and ventilation.
An EIFS with the Korax panel offers the following advantages over other pressure-moderated EIFS systems:
Type 4 or Type 3 extruded polystyrene insulation can be used for the primary insulation. This is usually not possible with Type PB EIFS, but the Korax panel supports the lamina.
Thermal bridging through joints in insulation (sometimes visible on EIFS as a contrasting absence of condensation at the insulation joints on a cold morning) is mitigated by offsetting the joints of the Stucco Rainscreen Panel™s with the joints in the primary insulation, and by the cavity.
A peel and stick air barrier (which is not sensitive to moisture and is uniform in thickness) can be used.
Attachment of the EIFS does not depend only on integrity of the sheathing or an adhesive, either of which might deteriorate due to moisture from interior sources.

» ... NEXT