The Korax Rainscreen Panel System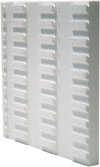 This system is the most effective method of managing moisture in exterior wall assemblies because of the the incorporation of a rain screen. By doing so, water entering the wall assembly from the exterior, or reaching the cavity from the interior, is diverted out through weep holes or dried out by the circulating air through venting.

Basic Rain Screen Principles
At present most designers relate rain screen wall assembles to masonry veneer and or masonry cavity wall. These assemblies have been shown to work and over the years have been perfected to the point where no testing and or performance warranties are required, asked for or issued by the proponents of these systems namely the masonry industry. The main feature of a brick veneer wall assembly is the airspace (cavity) between the masonry and the back up system, weep holes, vent holes and flashing.
A brick veneer is not air or water-tight and to this effect water most likely will penetrate or saturate a brick veneer wall many times over a period of one year. No damage is caused because the water will exit through the weep holes or by evaporation caused by air circulating in the cavity and the exterior exposure to the sun and wind. The traditional nominal cavity width is 25mm, although because of construction tolerances it can vary substantially. This cavity is further partially blocked by mortar droppings and masonry ties. It has been shown by experience that this reduction and bridging does not affect the performance of the system if additional safeguards are incorporated. These safer guidelines are vent holes, weep holes and flashing.
In addition, the system is provided with protection from water penetration in the form of moisture barrier if no insulation is placed in the cavity or an air-vapour barrier on the warm side of the insulation if insulation is placed in the cavity. At this time there are no specific guidelines in codes and standards as to what is the minimum or maximum cavity to achieve the drainage and venting effectively.
The experience with the masonry veneer indicates that a cavity of 10 to 14mm with a contact area of less than 50% (blocked by approximately 50%) with weep holes spaced at 800mm having and area of 70mm2 vent holes at wall tops of similar spacing and area ensure that any water entering the system will be directed out or will dry by air circulation. The National Research Council of Canada recommends a minimum of 9mm cavity if the assembly is to qualify as a vented rain screen wall.
The Korax RainScreen Panel™ when incorporated in the wall assembly will make the assembly a vented rain screen.
Stucco RainScreen Panel™ is a trademark of Korax Technologies Inc.
Stucco RainScreen Panel™ Canadian patent #2249509 l US patent #629862